A CORPSE IN CANYON
By
Jack R. Stanley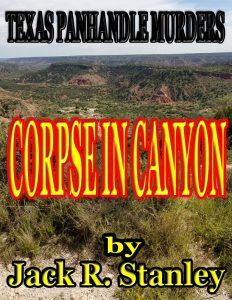 "Her feet may be in town, but her ass — and the rest of her is in the county," said Canyon Police Chief Haskell Maddox.
"Obviously she was shot in the city — she just fell into the county," responded Sheriff's Patrol Deputy Savanna Breeze.
"That means I've got — at best — assault with a deadly weapon and attempted murder in the city. She didn't die until she was in the county. So, this is in the county's lap."
Nobody wanted to deal with the murder of Myrtle Dagmar Puckett; the head of the North American Atheists Foundation. But when there's a Corpse In Canyon, a small town in the Texas Panhandle, it's somebody's case to solve and mess to clean up. Sometimes murder is just a bitch.
https://www.amazon.com/dp/B01N0YSE7K/ref=sr_1_1?ie=UTF8&qid=1483909060&sr=8-1&keywords=corpse+in+canyon
$2.99